Let me guess...
Is all this hustling killing your Vibe?
YOU WEREN'T PREPARED FOR the FEELINGs OF SELF-DOUBT
Nobody told you you'd have a never-ending list that multiplies by the hour. Running a business is supposed to be exciting, not overwhelming. But there are so many moving pieces in your schedule you get anxious thinking about getting it all done.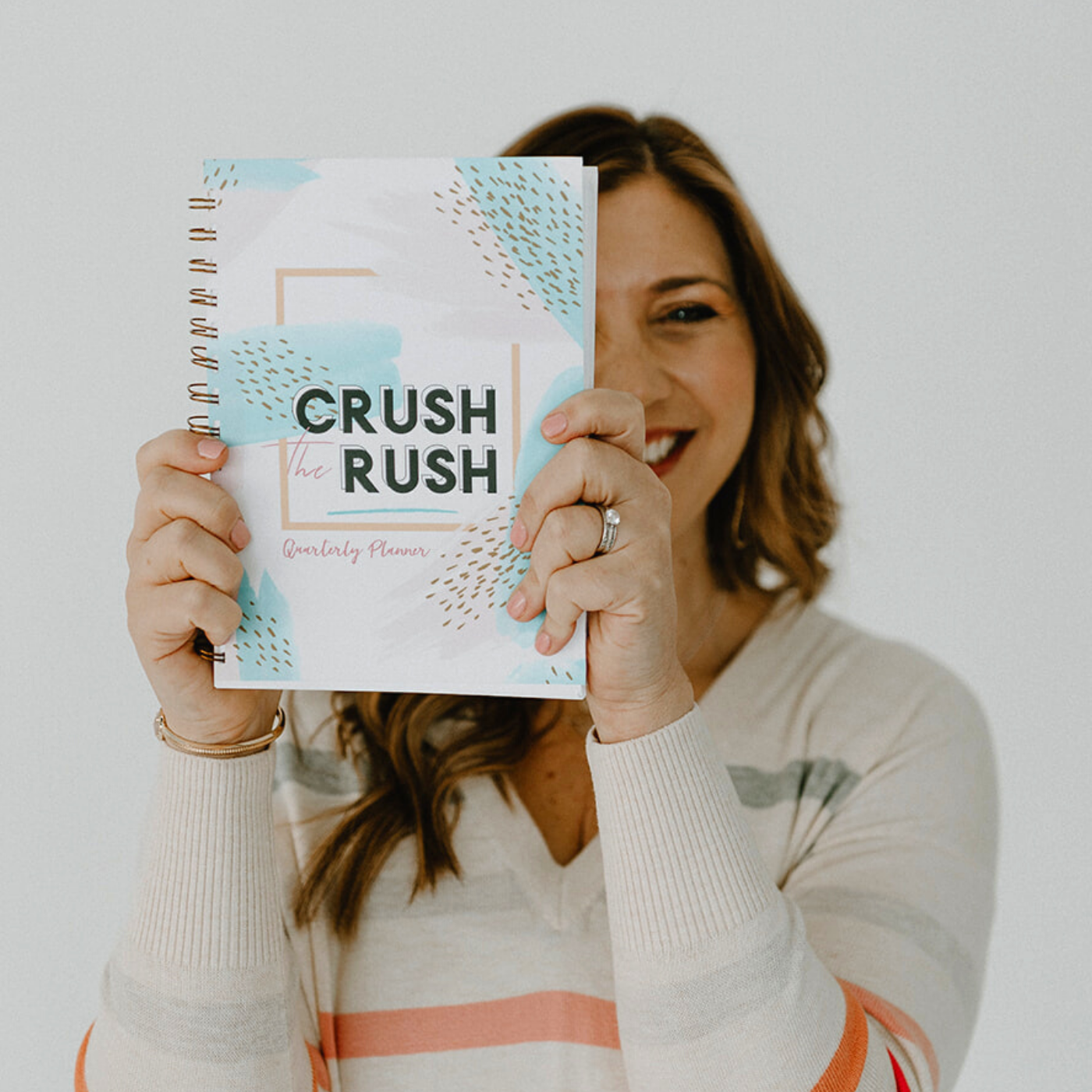 YOU AREN'T SURE WHERE TO START EVERY DAY
You're the account manager, admin assistant, photographer, social media manager, designer, marketer, copywriter, accountant, and CEO all at the same time. And maybe even a mom and 9-5er too! You can hustle yourself to death + do #allthethings. You can run faster but will never get off the wheel. I know that's not your vibe. 
i totally get it
I am so excited to show you how to build a schedule that will allow you to grow you business in less than 2 hours per day!
I'm talking the kind of schedule where you wake up knowing exactly what you need to do.
You have a clear plan for the day and accountablity to stay on track.
You can even take the night and weekend off to do what you love and feel good about your progress.
We know you are busy
WHICH IS WHY WE DESIGNED A PROVEN TOOLKIT TO FIT YOUR SCHEDULE
ONE THAT HELPS YOU
+ Take the right daily actions that improves your profits
+ Learn to set growth goals that push you to the next level without stress and built-in accountability
+ Successfully combine business and personal activities together so you can save hours instantly
introducing...
THE CRUSH THE RUSH CLUB MEMBERSHIP
The Crush the Rush Club is a proven combination of tools, support and community focused on bringing revenue into your business. 

Including in-person strategy and accountability (as in me and you working together in Q&A and co-working sessions 3 times a month customizing the experience to you).
No more learn it and lose it. Plus, who has hours to take a course? Certainly not with your schedule.
STOP WASTING TIME TRYING TO LEARN EVERYTHING ON YOUR OWN.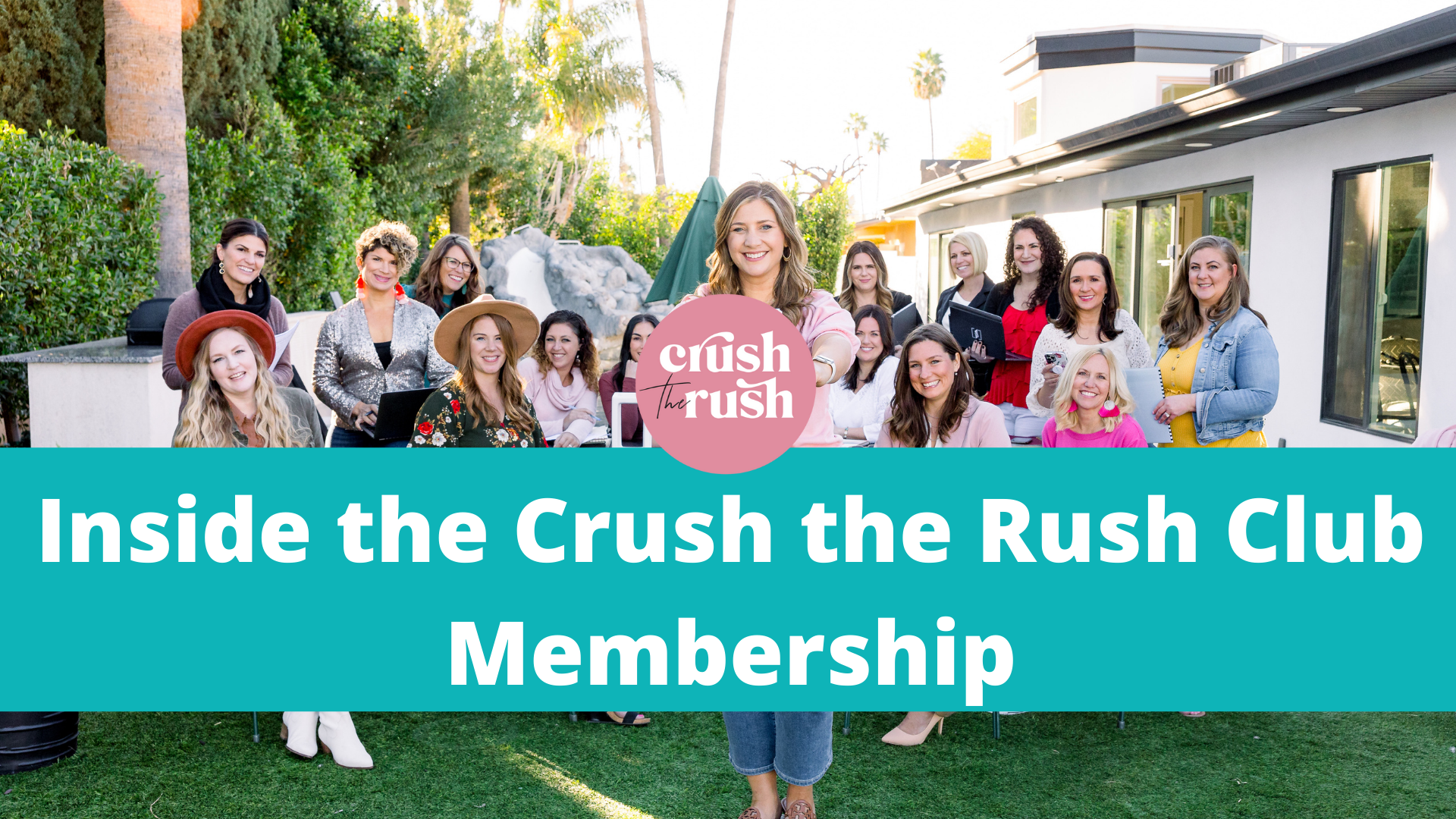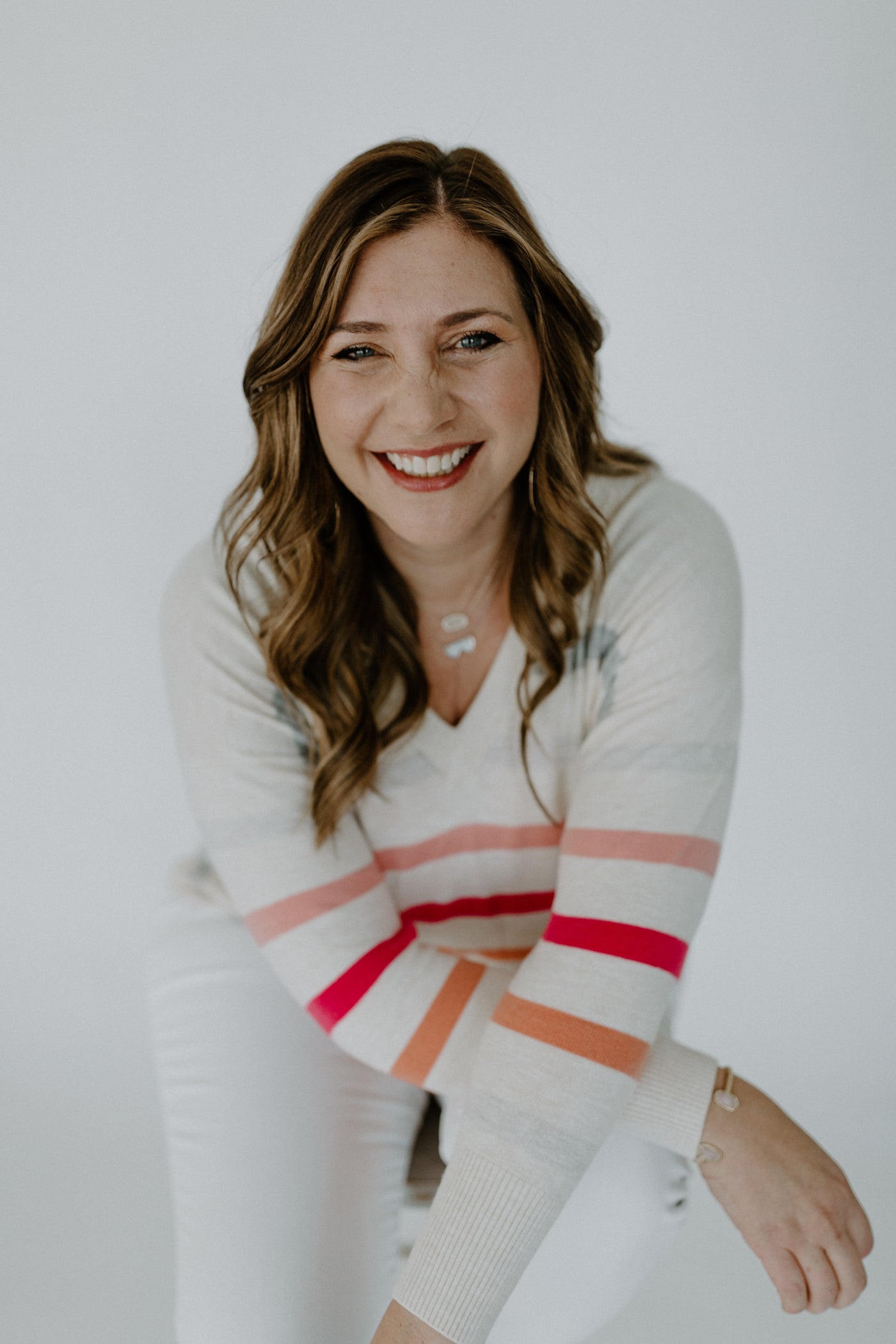 WHAT MAKES THIS DIFFERENT THAN YOUR AVERAGE COURSE?
This system gets your results in the shortest amount of time
From working with my clients I found those that just had the planner wanted more in-person real life support and accountability with their weekly and monthly plans.
Inside the Crush the Rush Club Membership...
Like netflix, but productive...When you enroll in the Crush the Rush Membership bundle you get instant access to a Netflix-style portal that will teach you to how to apply the Crush the Rush method each month.
TAKE A PEEK INSIDE THE CRUSH THE RUSH CLUB HERE AND SEE HOW DAILY ACCOUNTABLITY CAN WORK FOR YOU!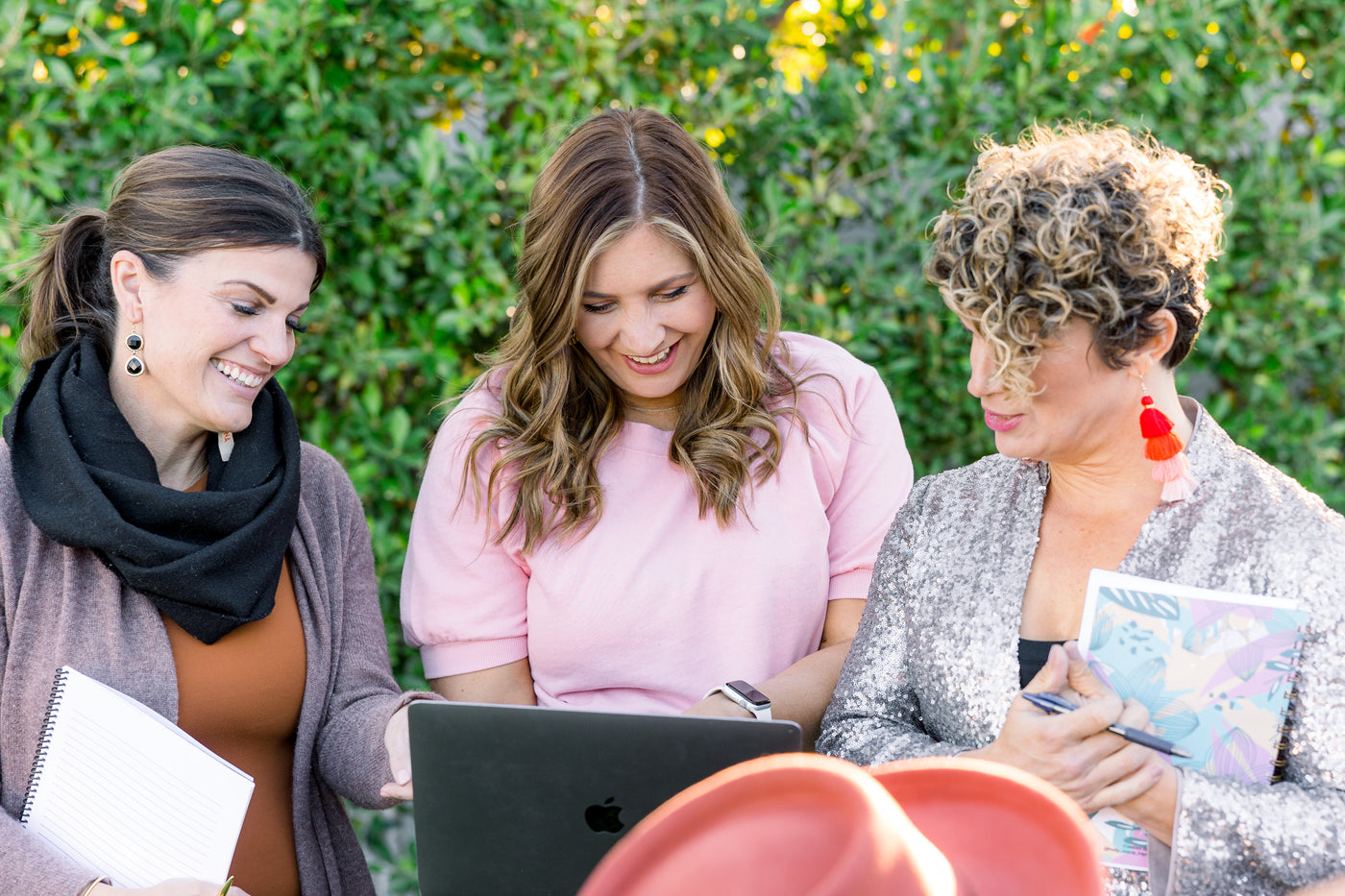 MOST PEOPLE STRUGGLE WITH MANAGING THEIR DAY
But let's be honest: You aren't utilizing your time to work on your business. Add in some personal growth goals and trying to figure out social media and well, it's a lot. Plus you know throwing spaghetti at the wall and hoping it sticks isn't a strategy.
LET ME SHOW YOU A BETTER WAY!
Picture yourself at the end of each month celebrating new clients and maybe even on vacation without feeling defeated, anxious, or stressed that things are falling through the cracks. 
My story Starts here...
WITH A 20+ YEAR CORPORATE STRATEGY CAREER I WANTED TO EMPOWER FEMALE BUSINESS OWNERS
Before I started my business...
I knew I could make more of an impact in the strategy and productivity space because, to be honest, I'm really good at it. My nickname wasn't "Organizer Extraordinaire" in the business consulting (for 20+ years) world for nothing! l always got assigned to the most unorthodox projects out there to clean them up and get results. I loved the challenge. But I wanted to do it in a way to help small businesses thrive.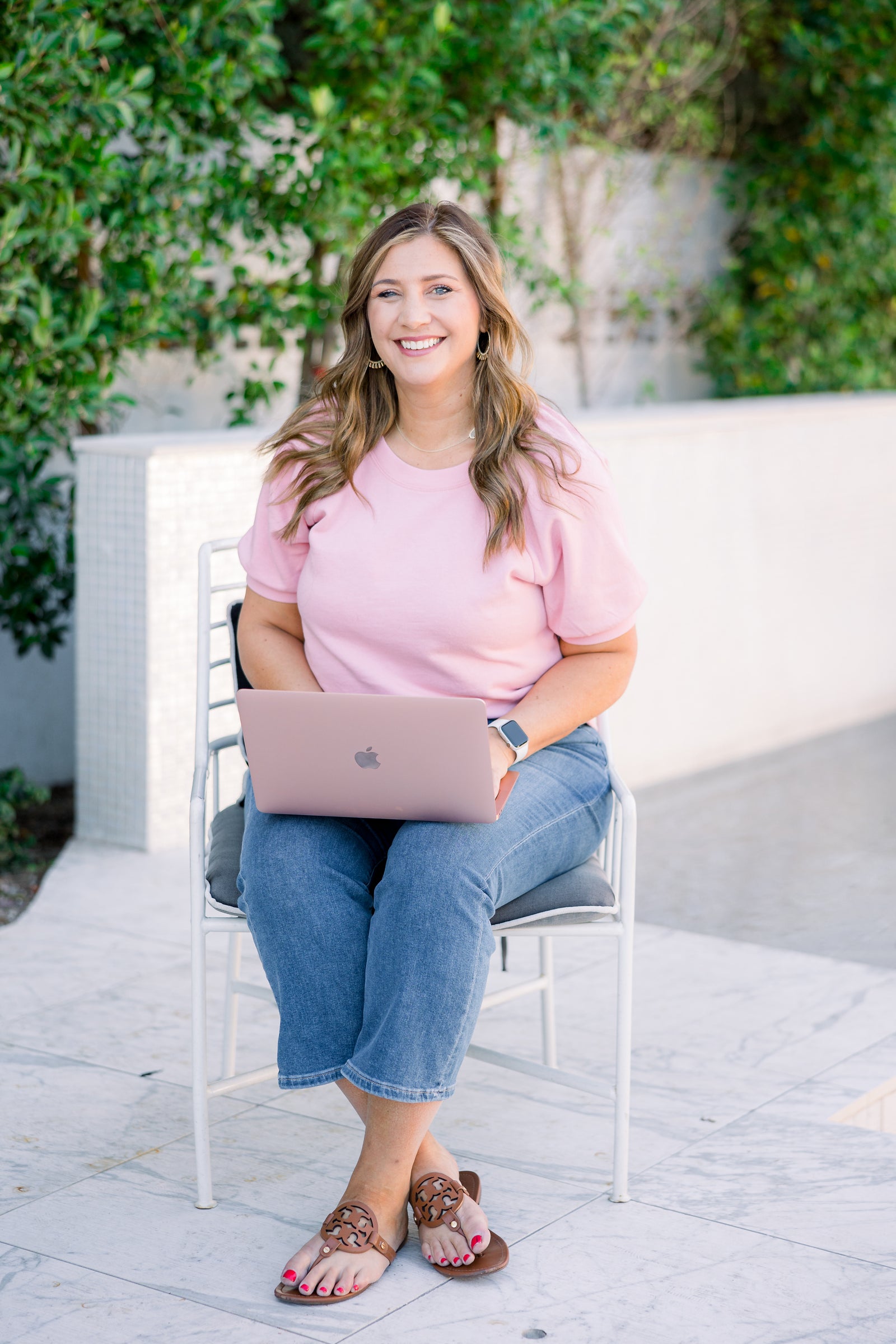 I knew there was a better way...
I built the quarterly planner and accountability system along with the the Crush the Rush method from my kitchen table in 2020 during the pandemic because I knew there needed to be a better way to run a business, make money and still take weekends off.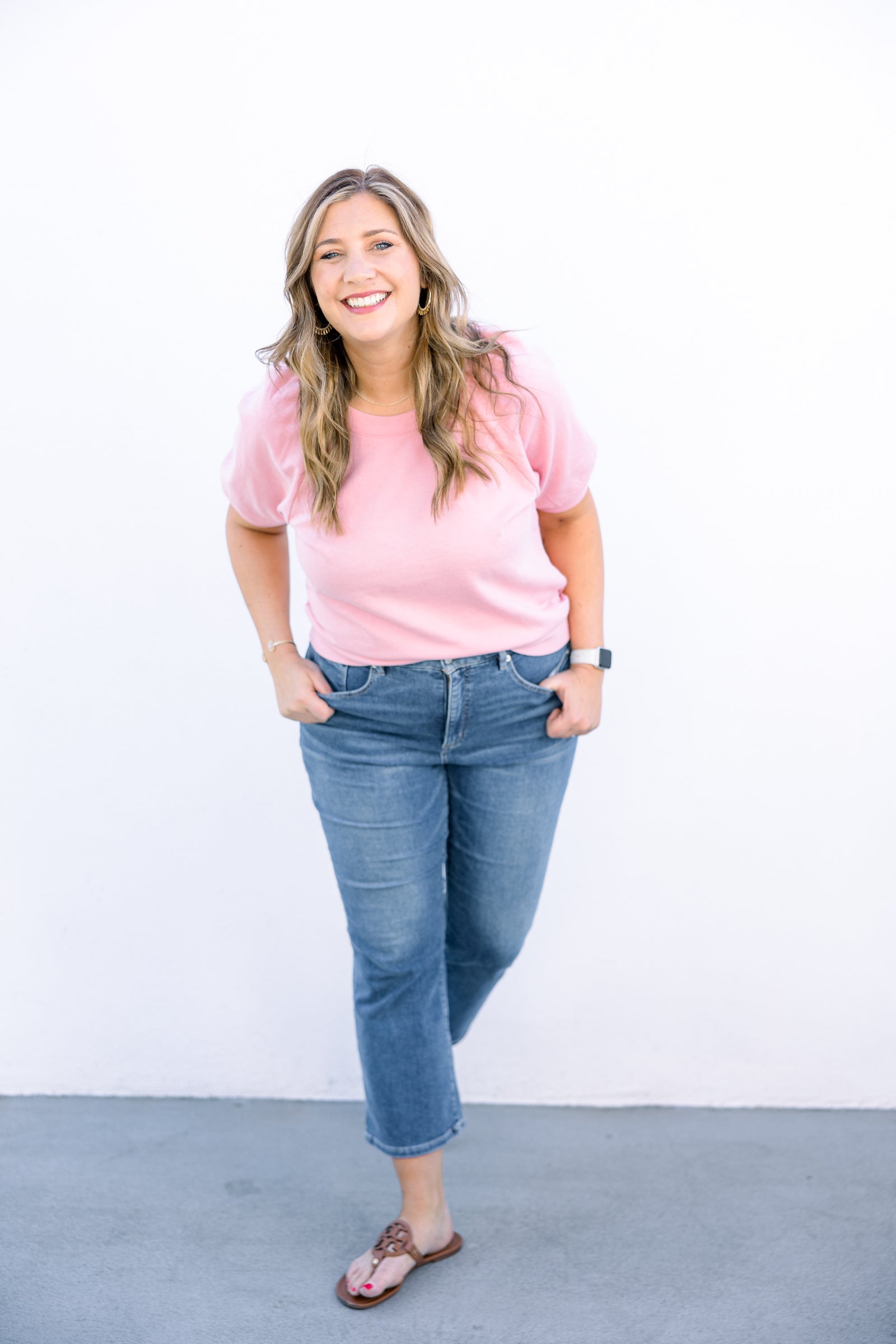 Fast forward to today...
Using this method I have scaled a community and a 6-figure business and since retired myself and my husband from the corporate world. You deserve to have this too!
check out
what our customers are saying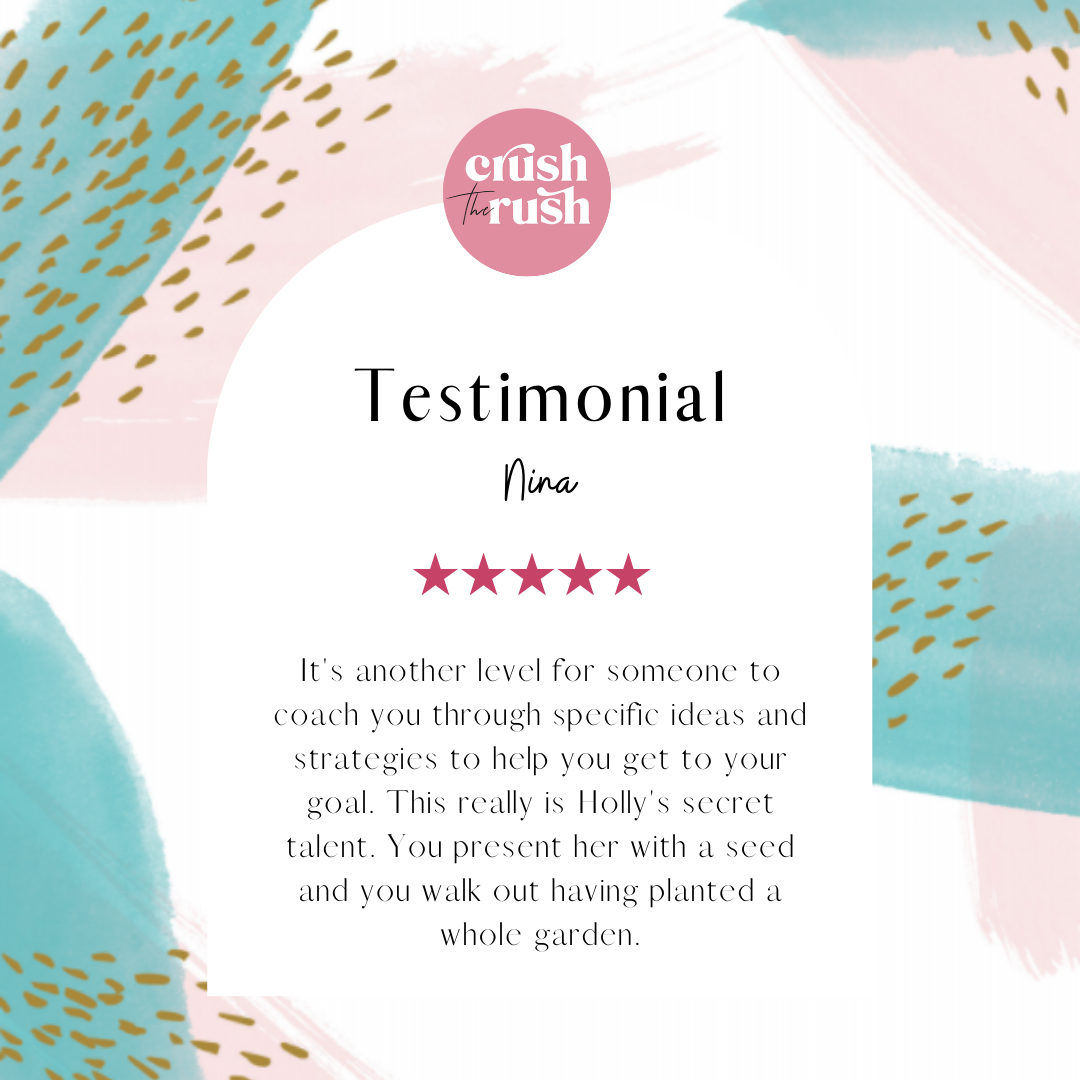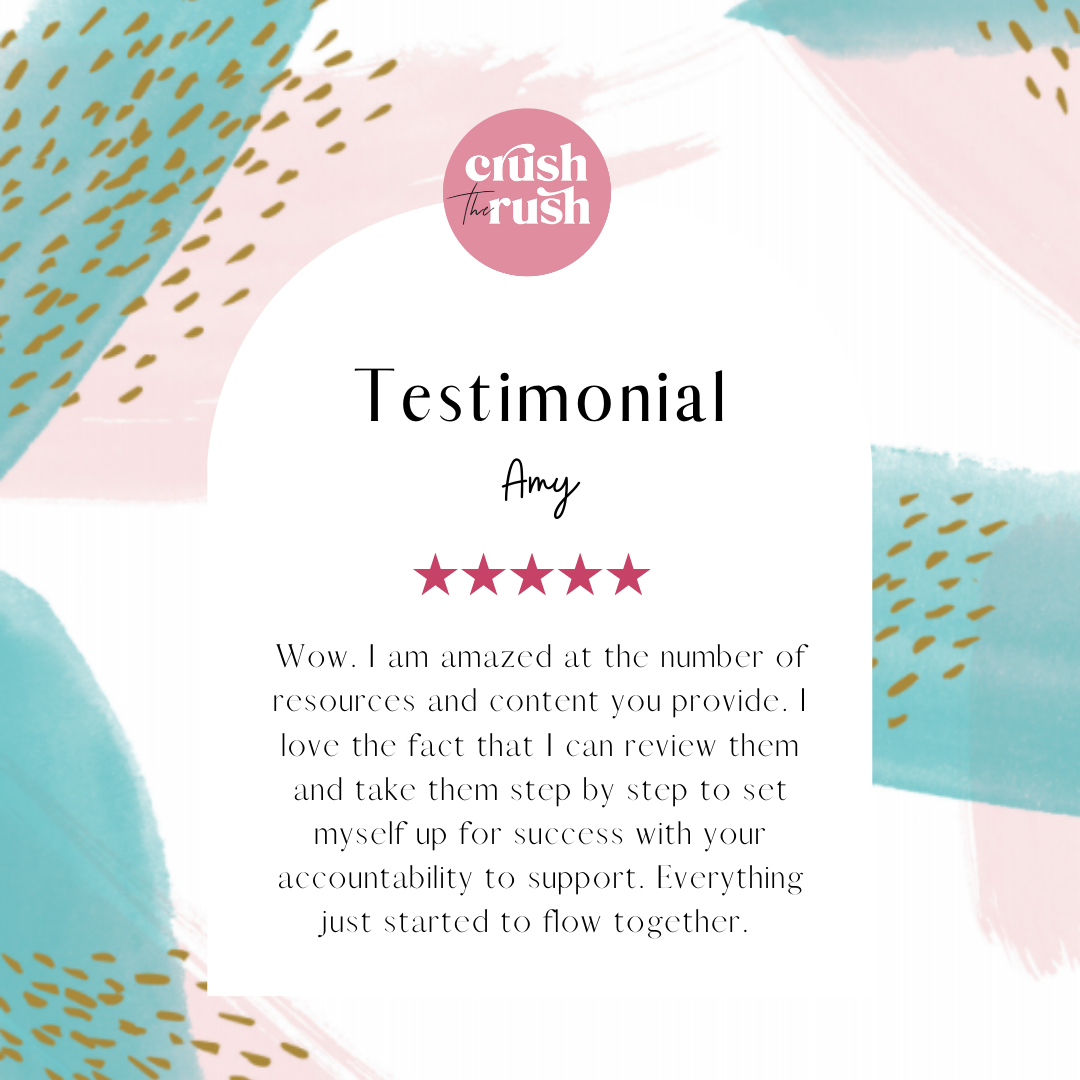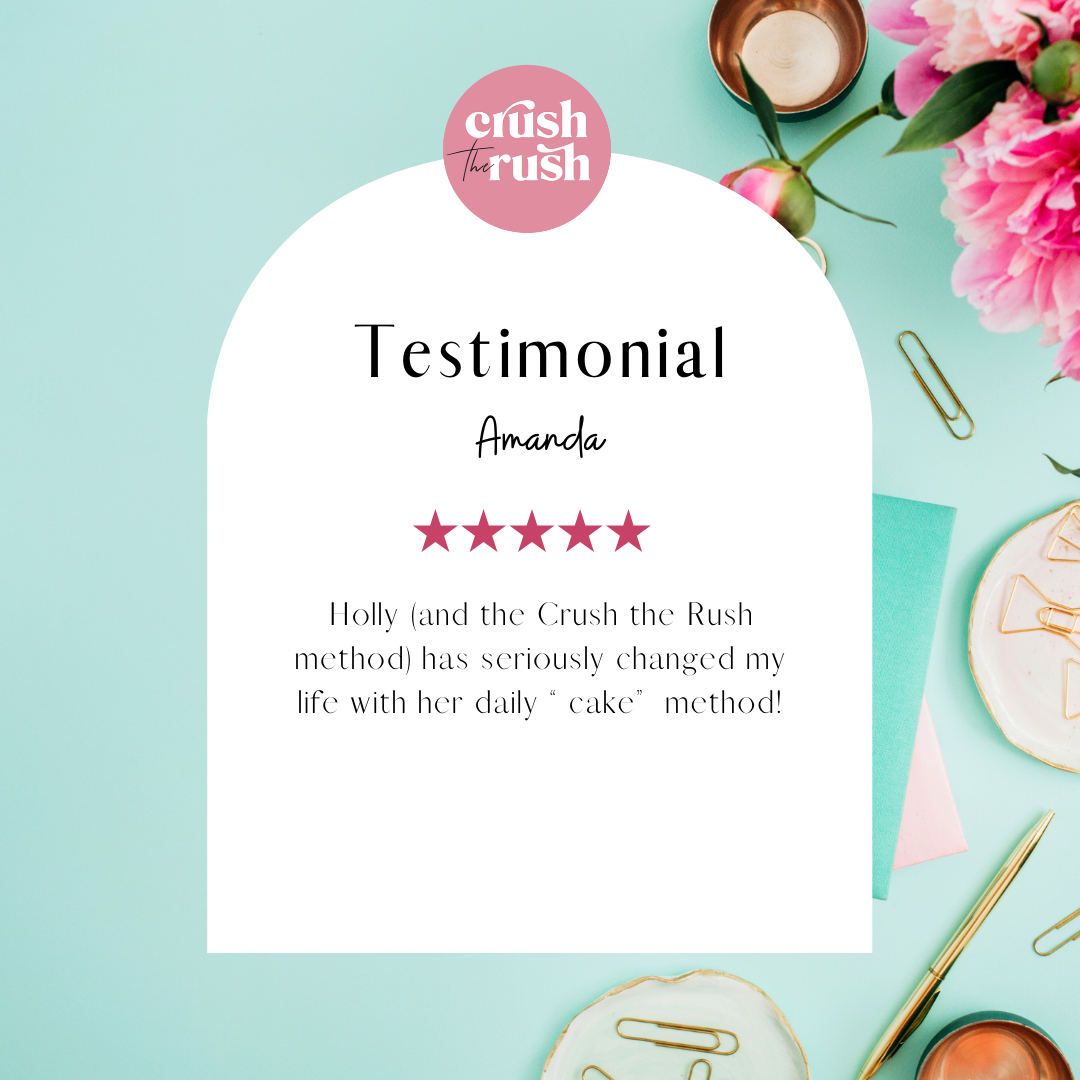 Frequently Asked Questions
MEMBERSHIP
The courses are being revamped and have been retired with the exception of two focusing on strategy and content creation.
The Club focuses on real-time productivity tools, techniques, and high-level business strategy on all topics (not just content). 
The mastermind is extremely high-touch and customized to your business goals. The club allows some 1:1 but is delivered in a group setting keeping the cost lower and the impact high. 
The mastermind would be the next step after the Club membership if you wanted a more customized approach. 
As long as you are an active member you get access to ALL the content! And it is easily accessible in a brand new mobile app. So you can listen on the go!
All the bonuses will be emailed in a PDF so you have access forever. 
Planner
All orders ship out on the first Friday after being received weekly. Most orders ship within 3-5 business days. For questions please email support@hollymariehaynes.com

You will receive an email when your order ships as well as a tracking number to track your delivery.  
We have a 7-day no-questions-asked return policy, which means you have 7 days after receiving your item to request a return.

To be eligible for a return, your item must be in the same condition that you received it and in its original packaging. You'll also need the receipt or proof of purchase.

To start a return, you can contact us at support@hollymariehaynes.com. If your return is accepted, we'll send you a return shipping label, as well as instructions on how and where to send your package. Items sent back to us without first requesting a return will not be accepted.

You can always contact us for any return questions at support@hollymariehaynes.com.
The Crush the Rush quarterly planner is released at the beginning of each quarter to waitlist and current customers first and then to the public. As a current customer, you will be notified when a new quarter is released.

If you have a yearly membership they will be shipped automatically at the beginning of every quarter. (Typically the 3rd week of the month prior to the start of the quarter). 
Other
I don't just teach stuff. I actually do it. These are the EXACT templates and tools I use every day! (And how I grew 2 successful online businesses while working full time!)
I am best known as a routine and systems extraordinaire, but I also have 20 years of strategic corporate consulting experience paired with a podcast.  I am someone who is a few steps ahead of you that can help you strategize, organize, automate and simplify your business. 
To make our legal team happy 😉
Holly Marie Haynes, LLC and Holly Haynes can not and does not make any guarantees about your ability to get results or earn money with our ideas with information, tools, and strategy tips.

All products and services with our company are for educational and informational purposes only. Nothing on this page, any of our website, or any of our content or curriculum is a promise or guarantee of results of future earnings. 

We do not offer any legal, medical, tax, or any professional advice. Use caution and always consult your accountant, lawyer, or professional on advice before acting on any of this information related to lifestyle change, business, or finances.You are responsible for your decisions and actions.

We will not be held liable under any circumstances for your actions or results.
It is time to Build your business differently
When you combine strategy with accountability & productivity, it's magic.
The Crush the Rush Club membership guarantees a plan for your business every quarter and the tools you need tool learn, grow and hold yourself accountable.